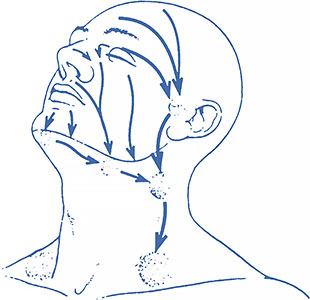 OVERVIEW
Head and Neck Lymphedema (HNL) is a devastating condition that frequently follows surgery or radiation for the treatment of head and neck cancer. Not only can HNL affect the patient's communication and swallowing function, but in severe cases can affect respiration, vision, and even ambulation, not to mention the frustration and embarrassment that accompanies this disfiguring condition. However, with proper treatment, HNL can typically be reduced to a manageable level. This 2½ day workshop will provide the academic foundation and practical application for the therapist to successfully implement basic techniques to reduce the edema that can create such devastating impairments. Therapists will learn about: (1) the basic lymphatic system; (2) evaluation and measurement; (3) Manual Lymph drainage (MLD); (4) compression wraps and garments; (5) documentation and billing
COURSE OBJECTIVES
Explain the basic anatomy and physiology of the head and neck lymphatic and venous systems and identify the relevant structures involved in lymphatic drainage.
Identify the most common forms of head and neck cancer, their treatments and side effects, and their functional impact on communication and swallowing.
List the various causes of edema in the head and neck and their appropriate treatments.
Differentiate between typical post-operative edema and lymphedema involving the head and neck.
Describe the effects of head and neck lymphedema on communication, swallowing, and psychosocial processes.
Demonstrate basic proficiency in assessment and development of a basic treatment plan for a patient with head and neck edema.
Demonstrate proficiency in basic techniques to reduce edema of the head and neck in order to improve communication and swallowing. These include:

Manual Lymph Drainage (MLD) techniques
compression wrapping for the head and neck
Kinesiotaping of the head and neck

Evaluate a written case study for a patient with head and neck lymphedema and perform an appropriate treatment session for that patient.
Professionals eligible to attend the course include both Certified Lymphedema Therapists (CLTs) and Speech-Language Pathologists (SLPs) who treat head and neck cancer patients. The course will include a basic review of lymphatic anatomy and physiology as well as basic MLD techniques relevant to the head and neck. Emphasis will be placed on the performance of basic techniques required for management of the patient with head and neck lymphedema and will be presented in a fashion that will accommodate the learning needs of both groups.
INSTRUCTORS
Brad Smith is a speech-language pathologist with 34 years of experience, specializing in head and neck cancer rehabilitation. In 2006 he was the fourth SLP in the US to become a certified lymphedema therapist. He served as senior speech pathologist and was the lead therapist in the Head and Neck Lymphedema (HNL) program at MD Anderson Cancer Center from 2006 until 2016, helping build the busiest HNL program in the US, evaluating more than 250 new cases of HNL each year. Since 2016 he has been based at the Sammons Cancer Center at Baylor Scott & White Medical Center in Dallas, Texas, where he continues to evaluate and treat patients with head and neck cancer.
Christine Porsche, M.S. CCC-SLP, CLT is a Senior Speech Language Pathologist and Certified Lymphedema Therapist at MD Anderson Cancer Center. Christine helped to develop the first therapy program worldwide in the evaluation and treatment of patients with head and neck lymphedema and currently helps lead the program targeting patients suffering from lymphedema and myofascial dysfunction following HNC treatment. She is a collaborator in an institutional review researching the role of myofascial release in patients suffering from late radiation associated dysphagia. She has been an invited speaker at several regional and national conferences.
CONTINUING EDUCATION UNITS (CEUs)
CEUs for CLTs are provided through the FPTA, AOTA, and NCBTMB. For SLPs this course is offered for 2.0 (20 hours) CE credit by the Texas Speech-Language and Hearing Association (TSHA). Hours apply toward the ASHA 3 year (30 hours) CE requirement but are not certified ASHA CEUs.
PROFESSIONAL PREREQUISITE
Registration is limited to CLTs who have completed a 135-hour LANA-recognized lymphedema certification program, SLPs, and MDs.
RELEVANCE TO OCCUPATIONAL THERAPY
Based upon each lesson and, in accordance with AOTA Guidelines, learners will receive insight into the relevance to OT of lessons via one or more of the following methods: discussions groups, case studies, homework, demonstration, and/or end-of-course surveys geared towards reflection on practice integration
AOTA CLASSIFICATION CODES
Codes pertinent to this certification:
Category 1: Domain of OT

occupations (ADLs), performance skills (motor, process), performance patterns (habits, routines)

Category 2: Occupational Therapy Practice

intervention (preparatory methods and tasks, education and training, outcomes, quality of life)
CLASS TIMES
A total of 20 hours of instruction is provided in the Evaluation and Management of Head and Neck Lymphedema course. Class hours are Friday and Saturday 8:00am-5:30pm, and Sunday 8:00am to 12noon.
SPECIAL NEEDS REQUESTS
This continuing education activity is fully accessible to special needs students and addresses the needs not only of individuals with physical impairments, but also of those with sensory impairments (e.g., hearing, speech, vision), and emotional and learning disabilities. This includes accessible technology and compliance with the Americans with Disabilities Act for distance learning. The Provider ensures an instructional environment that enhances the learning process. Resource or reference materials and instructional aids and equipment are current, appropriate for the learning activity, and support the intended learning outcomes. The Provider attempts to create a fully accessible educational environment from which all learners can benefit, and provides an opportunity for learners to identify special needs in advance of the activity.
TUITION
Tuition for the Evaluation and Management of Head and Neck Lymphedema course is $745.