COURSE DESCRIPTION
It is common to see wounds in lymphedema practice. As such, CLTs are confident about the successful management of the lymphedema, but less so for concomitant wounds. As professionals, CLTs must approach these cases with knowledge and skill since each patient deserves the best possible outcome regardless of the complexity. This 2-day course provides the foundational skills of clinical wound care based upon accepted standards.
Both lymphedema and wounds are problems of the integument. Current research describes lymphatic and circulatory anatomy as closely linked, whereby the lymphatic vasculature may be the primary system for all reabsorption. Literature also supports that insufficiency of lymph drainage not only contributes to sluggish wound healing and recurrence of ulcers, but may also be the underlying pathology that contributes to the formation of a venous ulcer. Therefore, controlling periwound lymphedema results in enhanced wound healing. CLTs play a critical role in eliminating pathophysiologic barriers to wound healing and are uniquely aligned to optimally treat and support the lymphatic system. In the case of chronic wounds, lymphatic treatment can help propel the wound to full closure in the most effective and efficient manner. As such, the CLT combines wound care expertise with lymphedema expertise and is best positioned to heal chronic wounds.
This interactive class is taught by certified and experienced lymphedema therapists with extensive experience and certification in wound care. Content focuses on:
functional anatomy of the skin
acute vs chronic wound healing
etiology of different wound types including venous, arterial, diabetic, and pressure ulcers
wound assessment and documentation
types of, and indications for, different wound dressings
practical treatment planning for the clinic
Instruction blends the lymphedema skill set with wound care strategy, keeping the instruction relevant to the lymphedema clinic. Case studies, videos, and exercises in clinical decision-making are included to help prepare the student for real cases.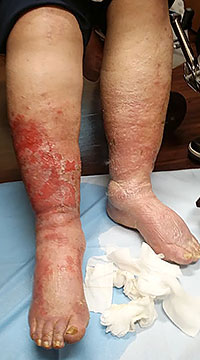 Before Treatment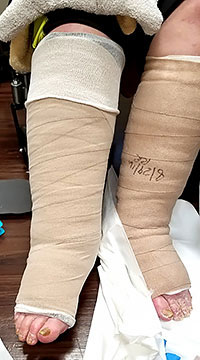 In Treatment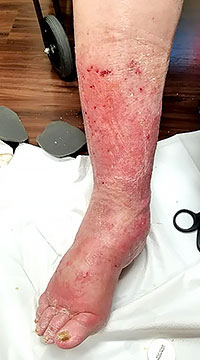 After Treatment
COURSE OBJECTIVES
Upon completion of the Wound Care Strategies for CLTs course, students will be able:
explain the basic anatomy and function of the skin (integument)
understand normal wound healing processes
understand the differences between acute and chronic wounds
understand current accepted rationale for development of chronic wounds
refer to research that supports lymphedema treatment in cases of chronic wounds
understand the triangle of wound assessment; including wound base, wound edge, and periwound
understand NERDS and STONEES to differentiate between critical colonization and infection
understand categories of wound care dressings
develop individualized wound care strategies for various wound presentations including selection of appropriate wound dressings
CLASSROOM ENVIROMENT AND FORMAT
This 2-day weekend course is a thoughtful blend of theoretical content and practical instructor-led clinical instruction. The student will first achieve familiarity with the essentials of wound etiology and care, and then through demonstration, will assess, select appropriate wound dressings, and apply the dressing onto a partner. Following this course, students will be able to adapt these new skills to various patient presentations commonly seen in wound care. With the use of clinical case studies, this course is presented in a collegial, relaxed, and interactive atmosphere that allows for free-flowing clinical discussion, helping to build the critical-thinking skills that are as important as the manual skills learned. This course is taught by active clinician educators who are as passionate about wound care as they are about lymphedema.
INSTRUCTORS
Christina Hankins, PT, CLT, WCC
Christina received her Master's in Physical therapy at Texas State University in 2003. In 2004, while working at Saint David's Rehab Hospital (Neurological floor) she managed and developed a wound care program including new policies and procedures for the skin care team. In 2005 she received her CLT with the Chickly institute; since then she has worked primarily with lymphedema in various settings including; acute, inpatient, outpatient, and home health settings. Christina has attended many advanced courses on both wound care and lymphedema treatment, including CLT certification with the Norton School of Lymphatic Therapy. She is employed at Accolade home health where she has developed, marketed, and grown the only home health lymphedema program in Austin, Texas. Christina became a certified wound care specialist in 2007, yet has been practicing in the wound care area since 1997. She has lectured to local community groups, clinicians and physicians regarding lymphedema and wound care as well as chairing local lymphedema therapist support groups. Christina specializes in lymphedema and wound care treatment and will remain dedicated to furthering awareness of better integration between the two treatments.
John Beckwith, PT, CLT-LANA
John received his physical therapy degree from the University of Connecticut in 1993. He received his lymphedema training in St. Louis in 1998 from Lerner Lymphedema Services Academy of Lymphatic Studies, instructed by Steve Norton and Guenter Klose. As a PT he has worked in acute care and outpatient settings, but since 1998 has worked primarily as a lymphedema specialist. He developed the respected lymphedema clinic at Inova Alexandria Hospital in Alexandria, VA, working there from 1999 until 2006. From 2006 until 2010 he helped expand the lymphedema clinic at Virginia Hospital Center in Arlington, VA. He moved to Eugene, OR in 2010 where he has been developing the lymphedema clinic at Sacred Heart Medical Center at River Bend. John became LANA certified in 2001 and has taken a number of advanced courses in lymphedema including Klose-Norton advanced training in 2000 and 2003 and the inaugural English-speaking advanced course at the Foeldi Clinic in Hinterzaarten, Germany in 2002. He has lectured in lymphedema at PT and PTA programs in the Washington, DC area and in Eugene, OR. He has also lectured on lymphedema at the WCEI Wild On Wounds conferences. Since 2005 John has been contributing educational expertise, first as an assistant, then associate and now a primary instructor for the Norton School of Lymphatic Therapy. His interests include lymphedema education, wound care and the application of CDT expertise in acute care. John was a member of the Board of Directors of the Lymphology Association of North America from 2009 until 2012.
CONTINUING EDUCATION UNITS (CEUs)
CEUs are available for Physical Therapists through the Florida Physical Therapy Association (FPTA), Occupational Therapists through the American Occupational Therapy Association (AOTA) (AOTA CEUs/Contact Hours (16); AOTA Classification Codes: Category 2, Domain of OT), and Nurses through the Illinois Department of Professional Regulation. For questions about receiving CEUs please call us toll-free at (866) 808-2249.
PROFESSIONAL PREREQUISITE
The following professions are accepted for training: (1) CLTs who have completed a 135-hour LANA-recognized lymphedema certification program; (2) MDs
CLASS TIMES
A total of 16 hours of instruction is provided. Class hours are 8:00am–5:00pm, Saturday, Sunday.
TUITION
The tuition for the Wound Care Strategies for CLTs course is $595.